Lets Get Started. Now you are onboard let's make sure your project is delivered well.
"Creativity needs discipline and freedom" David Ogilvy
It's our job to balance the two.

DoDA has thrived on the discipline we build into the hard elements of our work – such as briefs, deadlines, and final outcomes – balanced off against the creative freedom we give our team to push boundaries within the defined structure.
It's the remit of our project managers to strike this balance in order to delight and deliver, and we're excited to start this journey with you today.
delivering a Successful Digital project
The challenges of project delivery can be daunting and time-consuming for those unfamiliar with the process. It's our job to make sure your project is delivered on time and on budget, whilst meeting, and where possible exceeding, your expectations.
As a seasoned team of creatives and digital engineers, we know only too well what is needed to ensure a project is a success. A strong production process backed up by open and honest communication.
Let us run you through the process used by DoDA to achieve successful delivery;
Digital projects can quite quickly fail to meet any preconceived expectations. They can also quickly not follow the original scope. This can then have severe consequences on the budget and deadlines.
There are several reasons behind a project failure:
Scope changes: revisions made to the original scope during the project.
Scope defects: the original scope is failing to meet requirements or bring expected value.
Key decision-makers are not updated often enough or only when a project is close to completion.
No digital project is immune to other external forces and you'll need strength and determination to stay on the scope to ensure your project remains on track.
We have developed robust project management methodologies and agile workflows but maintaining value for both parties is achieved mostly through a transparent, honest conversation and understanding.
"Creativity needs discipline and freedom" David Ogilvy
It's my job to make sure your project is completed correctly and meets everyone's expectations. I am an advocate for you and for us.
You will find my approach to projects based on honesty and integrity. I help our team to communicate effectively and follow the timeframes. I also help maintain our quality control.
Don't be upset if I say no to your requests. Why? If it deviates from the prescribed scope of work your more lightly to hear me say 'Yes but not now. Lets plan this for phase two'
I also work hard to ensure the end product is tested and improved especially at the latter stages of the process. During the delivery of a project, you may be asked to agree to a variation order or extension of the deadlines if the scope of work changes.
Whatever happens, I love creating inspirational projects and developing long-term working relationships. I'm here to help you with any project type.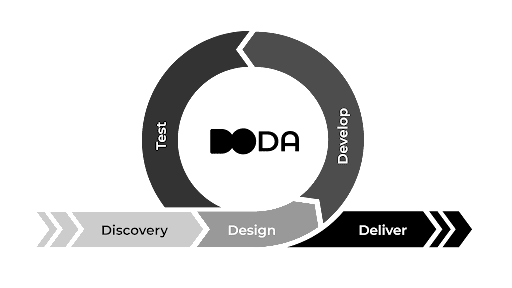 At this stage we are highly engaged with our client to determine the needs, goals, wishes and desired result of the project at hand. The focus here is on your "why", and your "who".
Often, when our next course of action is made obvious and the scope of work is clear, this stage gives us enough information to come to a commercial agreement and begin work.
On the other hand, if your project is a little more complex or unclear you may be introduced to your Project Manager earlier in the process – before the design stage begins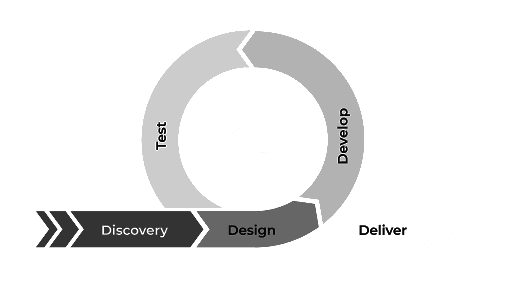 Functional design is key. The design stage gives us the opportunity to determine in detail the "how". We present our plan to you for discussion and approval before moving forward.
As and where elements are made clear at this stage that were previously out of scope, we will amend the brief to suit, or park these elements for a further phase of works post-delivery of the project at hand.
Once we've agreed a way forward, it's time to move onto development.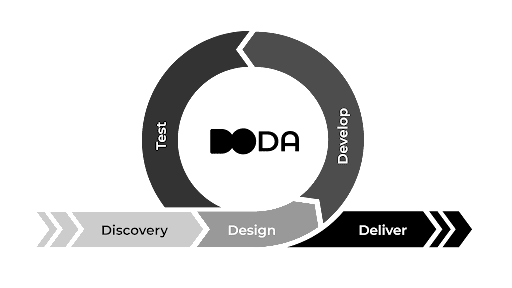 This is where the rubber meets the road, it's time to pull the blinds down, make some strong coffee for our production team and let them get to work.
Following the design closely, the team will put your project together piece by piece whilst your project manager keeps momentum up and communication constant, asking for micro-sign-offs that massage the final product into place.
Each stage of the build is tested in real-time, rather than leaving a long list of snags that hold up delivery, meaning we can be agile in both progress and delivery.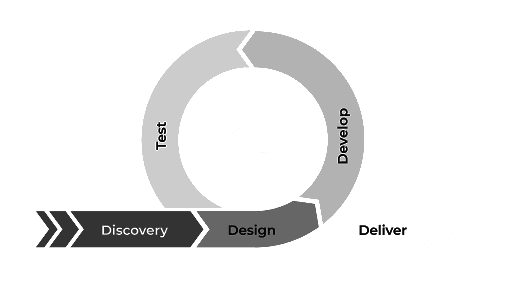 Once your project is built, via the appropriate design, development and testing, you will have a period to stress test the product for yourself, allowing any final feedback to be incorporated into the final product before handing it over to you to fulfill the goals, wishes and desired result we identified together at Discovery stage (and refined in Design).
After delivery, it may be time to consider The Next Phase, and/or Maintenance.
The digital world is always evolving, it's the nature of the fast-paced and exciting world we work in.
Sometimes, it's within budget and deadline to make changes to the brief on the fly. Sometimes it's not. Where it is not, you may hear us say that the requirement in question needs to be parked or shelved until "The Next Phase".
This discipline is vital to the successful completion and delivery of any digital project and requires buy-in from all stakeholders at all stages on both the client and supplier side of our agreement.
Your digital project has to live in the constantly evolving digital world we mentioned in The Next Phase.
New devices, new software, new security threats, new updates, new customer demands, new client requirements… There are almost infinite possibilities for change, which is why we often say "a digital product is never truly finished".
At completion of your project we will craft a bespoke maintenance plan to help ensure that your product continues to fulfill your initial and evolving needs, goals, wishes and desired results.
Are you ready?
Its time to deliver your next project